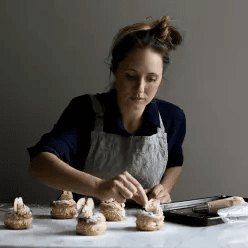 Lucie's award winning career as a Patissier started 15 years ago at Westminster Kingsway College where she studied a two year scholarship in classic French Patisserie. After spending some time in high end restaurants and hotels, the opportunity arose for Lucie to join one of the UK's leading chocolatiers William Curley.
After nearly five years refining her skills with William, Lucie returned to Sussex where she has spent the last few years creating bespoke cakes and desserts for weddings and events, developing recipes, working with food & drinks brands on various press campaigns and has also become a brand ambassador for Guittard Chocolate in the UK.Her work has also taken her around the world where she has cooked at weddings, afternoon tea launches and most recently exclusive events in Saudi Arabia. Lucie won her first baking award at The Cake Awards in 2013 where she won the 'Celebration/Novelty' cake category and has since gone on to be shortlisted for the 'Rising Star Award' at the Baking Industry Awards in 2014.
Most recently winning the 'Young British Foodie' award in the baking category at The YBF Awards in 2015.Lucie is an occasion and wedding cake specialist and creates the most elegant, contemporary and mouth-warteringly delicious cakes, a treat for both the eyes and the taste buds! When Lucy caters for an afternoon tea, it is with a twist, she puts so much care and energy into her work to ensure every cake, pastry and sandwich is made to perfection. If you require a special occasion cake, Lucie will work with your requirements and make a bespoke piece just for you and your guests.
Skills
Patissier
Cake Specialist